With so much going on it Southwest Florida for Halloween this year, it can be hard to keep track.  Here is a list of events for Fort Myers Halloween to make it easier.
For Adults (21 and over)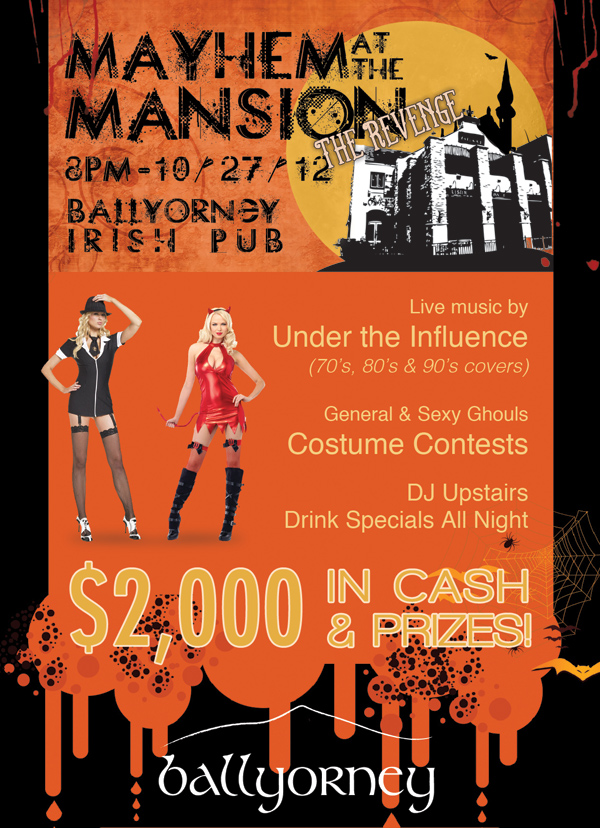 Halloween Party – Mayhem at the Mansion: The Revenge!
 Where: Ballyorney Irish Pub
13857 S. Tamiami Trail, Fort Myers, FL 33912
Start:  October 27, 2012 8:00 pm til Late
Live Music by: Under the Influence
General and Sexy Ghouls Costume Contents
DJ Upstairs
Drink Specials All Night
$2,000 in Prizes
For Children
Trick or Treat – Zoomers Amusement Park
17455 Summerlin Road, Fort Myers, FL
Start:  October 28 and October 31, 2012
Bring your bucket and costume and Trick or Treat at Zoomers
Mall-O-Ween – Miromar Outlets
Location: I-75, Exit 123, Corkscrew Road/Miromar Outlets Blvd.
Start:  October 31, 2012: 5:00pm to 8:00pm
Mall-wide trick-or-treating and Children's Costume Contest held at 7:00pm in Playland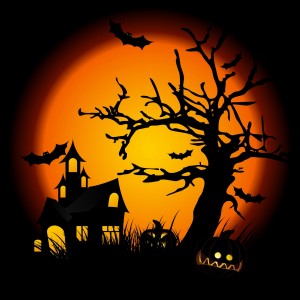 More events for Halloween this year include:
Free Kids Crafts – Indian Corn Magnet
Miromar Outlets, Estero – Playland
10 a.m. – Noon
Kids from toddlers to 12 are invited to participate in supervised fun activities. Free.  239-948-3766
Spooktacular
Pine Island Public Library
10700 Russell Road NW, Bokeelia
3:30 p.m.
Boyles and Ghouls will laugh and scream as the Count and Countess of Hauntsville present a fun, non-scary show full of surprises. Join the Count
and Countess in a "Spooktacular" show guaranteed to please even the scariest ghosts and goblins.  239-479-4636
No Tricks – Just Treats
Chick-fil-A of Estero
21900 South Tamiami Trail
Come in dressed up in a costume and receive a free kids "IceDream" 239-498-8700
Family Fall Festival
Daniels Road Baptist Church
5878 Daniels Parkway, South Fort Myers
6:30 – 8:30 p.m.
Daniels Road Baptist Church is hosting a family fall festival for Halloween. Come and enjoy games, food, face painting, bounce house and other inflatables, and lets not forget candy.  Free.  239-481-2416
Trunk or Treat Halloween Event
Cape Coral First United Methodist Church
4118 Coronado Parkway, Cape Coral
6 p.m.
Cape Coral First United Methodist Church will host its 5th annual Trunk or Treat event from 6 until 8 p.m. in the church parking lot and Veteran's Park.  Bounce houses, music, games, food, and candy are FREE to all children in the community.  239-542-4051 www.capecoralfirst.org
Zombify Yourself (teen)
Northwest Regional Library
519 Chiquita Boulevard N., Cape Coral
2 – 5:30 p.m.
Drop by the Teen Zone reference desk and become a zombie in just minutes!  239-479-463
Preschool Storytime
Cape Coral-Lee County Public Library
921 S.W. 39th Terrace, Cape Coral
11 a.m.
Preschoolers (ages 3 to 5) attend this storytime independently while parents or caregivers wait nearby in the library building. This storytime includes activities that require more participation and a longer attention span. Each preschool storytime lasts about 30 minutes. Registration is required.   239-479-4636
Preschool Storytime
East County Regional Library
881 Gunnery Road, Lehigh Acres
10:30 a.m.
Preschoolers (ages 3 to 5) attend this storytime independently while parents or caregivers wait nearby in the library building. This storytime includes activities that require more participation and a longer attention span. Each preschool storytime lasts about 30 minutes. Registration is required.   239-479-4636
Wacky Wednesday: Native Dancers Craft
Fort Myers-Lee County Public Library
2050 Central Avenue, Fort Myers
4:45 p.m.
Create a pair of colorful Native Dancer puppets. We will provide all the necessary supplies. You can provide the talent. The puppets are for you to make and to take home to enjoy. Registration is required.  239-479-4636
Mall-O-Ween
Miromar Outlets, Estero
5 to 8 p.m.
Mall wide trick-or-treating and Children's Costume Contest held at 7 p.m. Stores are encouraged to hand out candy at this event. There will aso be a pet costume contest at 6 p.m. Pets and owners dress in their best Halloween costume.  239-948-3766
Annual Harvest Fest
Kings Kidz Academy,
330 W. Mariana Ave., North Ft. Myers
6 – 8 p.m.
Kings Kidz Academy and North Shore Alliance Church are hosting their annual Harvest Fest, There will be tons of fun, including FREE hot dogs, drinks, cotton candy, hayrides, balloons, games and CANDY!! Jesus is the True Light! See you there,
Rain or Shine!   239-656-1551