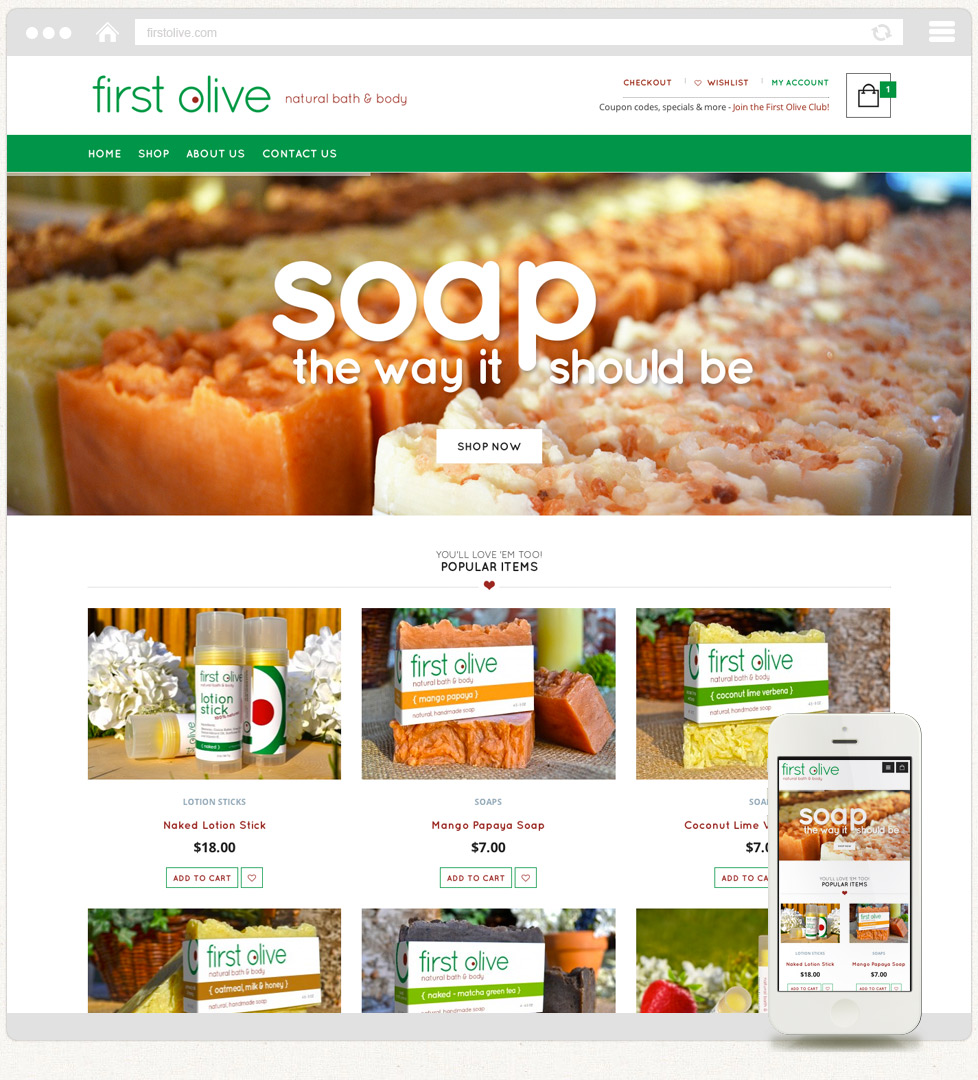 First Olive, a startup offering handmade, natural bath and body products is ready to bring the "care" back into skin care. For far too long, big commercial brands have been selling us skin care products full of harmful chemicals and toxins that often have the reverse affect of their intended purpose.
All of First Olive's products are handmade in Cary, North Carolina (a beautiful town just outside of Raleigh) by Felicia, a mother that knew her kids deserved better solutions for their eczema and acne conditions. After years of making her own skin care products for her children and seeing the successful results, she decided to turn her passion into a new business venture so that others could enjoy the same healthy skin using natural products that the skin loves. First Olive now offers natural soap, lip balms, and lotion sticks.
We partnered with First Olive to create the company's overall branding and identity, and our team is responsible for the logo design, product packaging design, email marketing, social media design, product photography and more. Last week, we completed the website design and development of the new website FirstOlive.com, allowing customers to purchase products online, quickly and easily.
The new website was developed upon the WordPress platform, using Woocommerce as the ecommerce platform. Website visitors can add products to their cart, use coupons to receive discounts, and save products to a wishlist. In addition to the various ecommerce functions, people are also encouraged to sign up to become a member of "The First Olive Club". The First Olive Club members receive exclusive coupons, specials, announcements and more each month, helping First Olive to grow their loyal customer base.
Using WordPress as a content management system allows our client to manage all pages and content on their website, and provides them with a plethora of other helpful tools, like contact form submission recording, visitor stats, ecommerce sales and reporting, email marketing database integration and much more.
We're excited to continue to work with the team at First Olive as we introduce more and more people to these awesome products and spread the joy of healthy and natural skin care solutions.
If you're interested in learning more about our website design Cary, North Carolina service , let's talk!