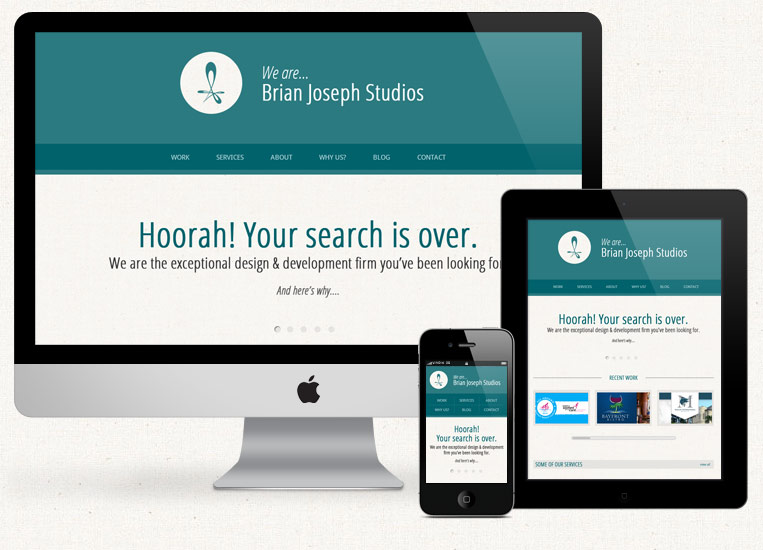 Definition of a responsive website: A website that responds to the device that accesses it and delivers the appropriate output for it uses responsive design.
A few years ago, I wrote our Twitter bio proclaiming that "We're ahead of the curve, let us take you there!", and each day here at the office the team knows that they must dedicate their work to this statement and our clients.
Over the past year or so, a new, modern web designand development technique started to gain popularity amongst the leading web designers of the world. These top frontend designers (and we like to include ourselves in that list) embraced this new way of representing information online in the most efficient way possible.With mobile devices currently outselling personal computers at a rate of 3 to 1, skilled web designers needed a way to make sure that their client's websites were user-friendly and visually engaging across everything from smartphones with small screens, to Apple iPads and even retina display devices.
For our local customers and potential customers based in Southwest Florida in cities like Fort Myers, Naples, and Bonita Springs, we are proud to let you know that…
Brian Joseph Studios is the first web design company in this entire area (and probably even further out across Florida) with a responsive website that uses the latest technology in web design and development.
Each week, the entire team here takes about 10 hours to further our skills and knowledge about our industry,  latest technologies, internet marketing strategies and much more. We carry out internal projects just for fun to ensure that our creativity is constantly flowing and the team gets to experiment with new techniques and processes.
As a result of our drive and desire to provide exceptional web design and development services, we are in a strong position to offer our clients leading websites that not only look awesome on all screens and devices, but also load quickly and rank high on search engines like Google, and Bing.
Let's talk today about bringing this exciting new responsive web design technique to your website.