Dart Frog Powerboat Charters
When the client came to us, they had one goal for this design project for their logo, brochure and website.
"We want our brand to be unique, original and interesting."
We first started work on the logo design, and after a few discussions with the client, a face-to-face meeting, we began creating a few logo concepts. After the first few revisions, we discovered that the main challenge was going to be the drawing of the frog, and the style that it was to be presented in.
Our client had a specific image and look in mind, and so we provided a few different versions of how we pictured the dart frog for this logo.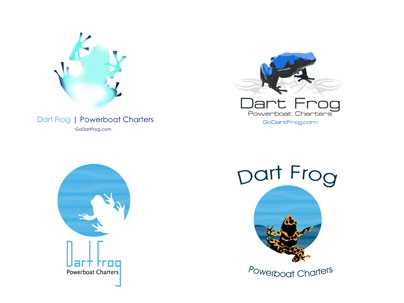 The image developed gradually into a much more interesting and memorable frog than the first few renditions, and we are all pleased with the outcome of the frog's style and lines. The circular format was approved from the beginning, and this gave the logo comfortable feel to it, and provided a structured enclosure for the frog drawing.
Finally, the "coastline" and water waves were subtly added to give the image a look of "Leaving the Ordinary Behind" (the company's tag line). This addition created a slight sense of movement to the logo design.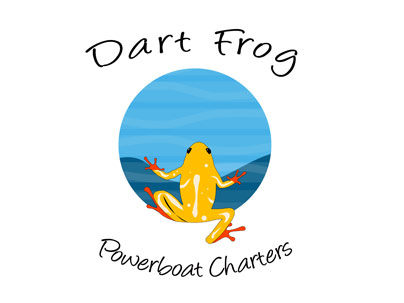 We are quite pleased with the end result of this logo, and thank the client for some great input and effort to work with us on the development of their brand.After the logo was completed, we then had the base from which all other materials could grow from. The tri-fold brochure and business card were next, and we already had a great idea in mind for them both. We would use the design of the skin on the frog (the circle and line markings of a dart frog) and give the entire look of the brochure and card a similar design. This would prove to be the perfect solution to keep the brochure design and business card design right in line with the uniqueness of the logo.
The Brochure was a lot of fun to design and format, and the client has received many positive comments on it.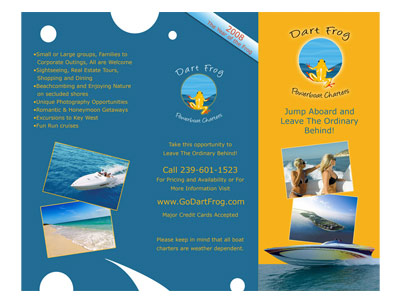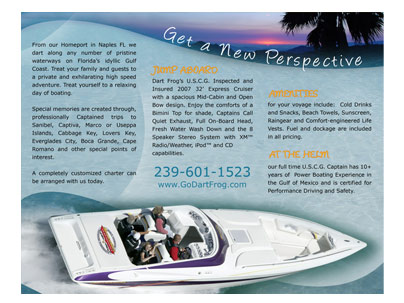 Do you like the designs? Have any comments on this post? We enjoy your feedback, so please feel free to post a comment. Thanks