Studies show that in 2013, mobile devices made up about 25% of internet traffic. There's a chance that in 2014, this number could increase up to 50%!
This trend over the past decade has several implications for the website design industry and the thousands of web designers and website developers, and of course mobile app creators. The number one goal we always have as professionals that create things for the internet, is to provide users with information quickly, easily and in an engaging and interesting way. When your users start visiting your website with a new device and a new screen size more regularly, they expect the same experience they enjoy when using a desktop or laptop.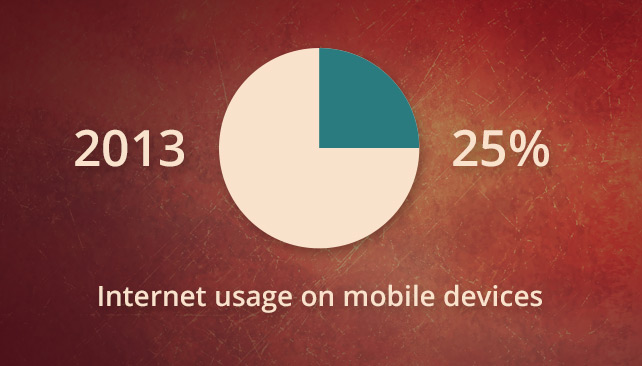 Have you checked out your website on a mobile device like an iPad or smartphone recently? If you have to pinch and zoom and drag right to left to view content and read text on your website, it is not mobile-friendly and your visitors are much less likely to do business with you. So, how do we fix this you ask? We use a relatively new website development technique called "Responsive Web Design".
A website that responds to the device that accesses it and delivers the appropriate output for it uses responsive web design. No longer do we have to create separate mobile websites that are basic and infinitely frustrating to update because the content is usually separate from the main website's content. Responsive web design allows us to code a website in a way that configures the text and images to fit within the viewers' screen size. The result: A great user experience for the website visitor that we as web designers are able to control. That's definitely a win-win!
Ever since responsive web design became available to use in modern browsers, Brian Joseph Studios has been developing websites that take advantage of everything the mobile user loves; touch interaction, map integration, easy to read text sizes, optimized images and much more! For our web design in Fort Myers and web design in Naples clients, we began offering custom responsive websites before any other web design company or freelancer in Southwest Florida! The Brian Joseph Studios website was also the first responsive web design company website in most of South Florida.
Whether you need a new website or you'd like to make your current website mobile friendly, contact us and let's get started! We are happy to meet with you locally in and around Raleigh, North Carolina, and Fort Myers and Naples, Florida.