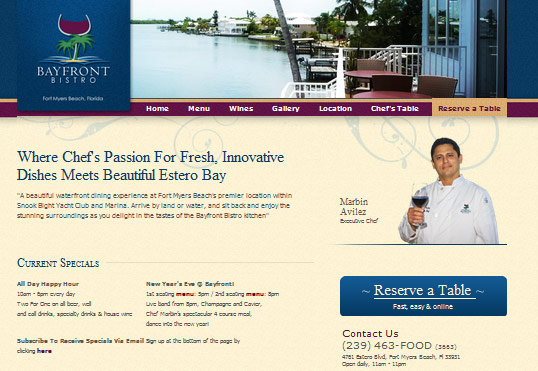 Back in January 2009, we designed and launched a website for a new restaurant, Bayfront Bistro, located in Fort Myers Beach, Florida. After almost 2 years, the restaurant has enjoyed a lot of success, and received many awards for the food, service and overall dining experience.
With this growth and success, we recommended a website re-design for Bayfront Bistro to enable us to truly capture the atmosphere and personality of the restaurant that many diners enjoy today.
We also encouraged the restaurant to embrace social media marketing and we now have a strong community of customers engaging with the restaurant online through Facebook, Twitter and food related review sites and forums.
One important aspect of the website that we greatly improved upon is the user experience when viewing the various menus. Obviously the menu pages are some of the most visited pages on the website, and so we developed a creative yet extremely user-friendly way of presenting the dishes to the user. You can view an example of this by viewing the Dinner Menu page.
We're looking forward to enhancing Bayfront Bistro's online presence even further and look forward to the new year with this long term client.
If you're looking for a wonderful dining experience in Southwest Florida, you won't be disappointed after visiting Bayfront Bistro on Fort Myers Beach. It's definitely worth the drive!
View the new Bayfront Bistro website here