There was a time when Google was almost psychotic about the user interface of their search engine pages, known to spend countless hours meticulously moving things around pixel by pixel. They are also keen on adding some "easter eggs" to their pages, as we talked about yesterday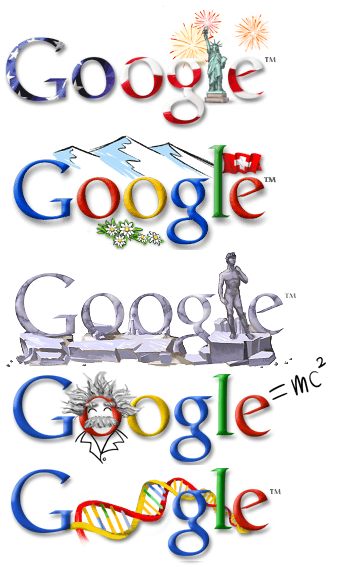 There has only been a few really noticeable changes to the Google homepage over the past several years, including a more regular logo design change to recognize a specific event or person in history, a slightly bigger search box and button, and the addition of some fading-in Javascript interactivity.
However, since Bing arrived on the scene as a standalone search engine from Microsoft, with its large and vibrant photographs, Google are showing signs of "imagery envy". During the 2010 Winter Olympics, Google unveiled their first ever homepage design that included imagery that spanned the full width of the browser screen.
In addition to that, Google recently recognized the retro gaming classic "Pac-Man" with a fully interactive logo where you can play the game within the logo area. Google.com is no longer synonymous with a static, simple white page with a logo, search box, and two buttons. They seem to be moving away from this clean ideal to a more interactive experience.
Two weeks ago, Google began rolling out the ability for users to customize their own Google homepage (separate from iGoogle) by adding a large background image. The search engine giants seem to be comfortable with their homepage losing some of its identity in place of a more user-controlled interface.
This new level of interactivity was first introduced with a simple link at the bottom of Google.com, but earlier this week, Google now present a random background image when you load the homepage, further encouraging you to customize your background (by serving up a pretty obnoxious image like the one I just saw! – e.g. shown below)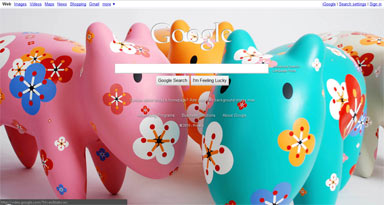 The main goal behind this seems to be to encourage everyone that uses Google's search engine from Google.com to sign up and create a Google account if they don't already have one. I think it's quite obtrusive to show these random background images by default as has been happening this week, and it will be interesting to see where Google goes with this or if it becomes a permanent fixture on their iconic homepage.