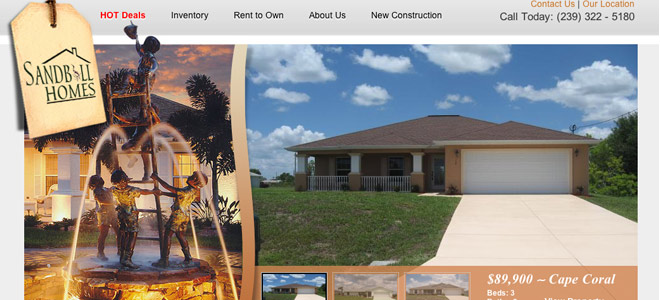 We are excited to announce the launch of a new website for a new client, Sandbill Homes. Sandbill Homes is dedicated to providing high quality homes in every price range, with a distinct emphasis on affordable housing in the Southwest Florida market.
Brian Joseph Studios was responsible for the design and development of this new website. With a custom design to match their existing branding, we created a strong, clean and professional online presence for Sandbill Homes and we're excited to continue working with them to market the site online and drive traffic to it.
The new Cape Coral Foreclosures website features:
A custom web design
Interactive "Featured Properties" slideshow on the homepage
Custom built Google Map property search tool
A custom plugin developed for listing management in the backend
"Favorites" tab that allows users to save properties to a cart-like system
Lead tracking and management tools in the backend
"VIP of the Week" – weekly email to subscribers  containing exclusive, non-MLS Sandbill Homes
Online "Schedule a Showing" feature
and a lot more!
Check out the new Sandbill Homes website now by clicking here . You can also follow them on Twitter