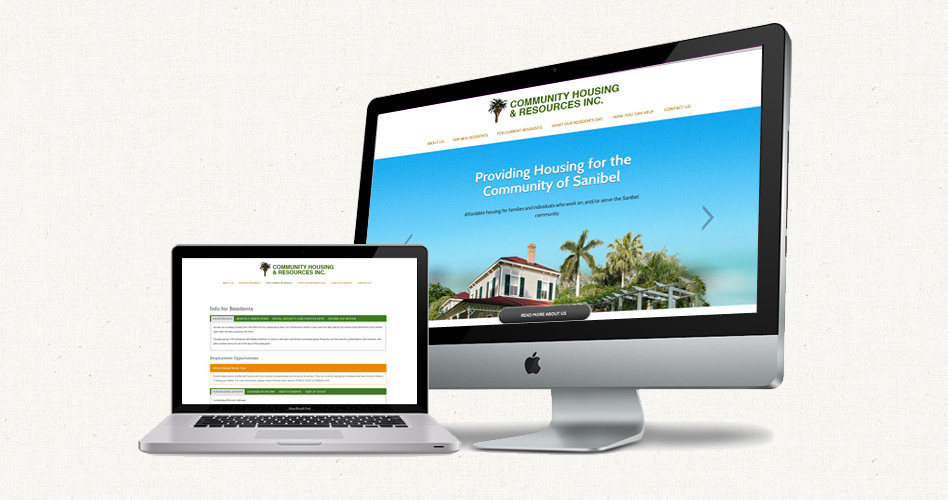 We recently completed a new website design for Community Housing & Resources, "a private not-for-profit organization primarily dedicated to providing affordable housing to families and individuals who work on and/or serve the community of Sanibel."
For over 10 years, Brian Joseph Studios has been actively involved in the Southwest Florida community and we've had the pleasure of working with several local charities and non-profits, notably Susan G. Komen SWFL Affiliate, The Autism Fund, The Jevon Kearse Foundation, and many more. Whenever we're able to provide services that can help these organizations to continue their wonderful work in our local area, we're happy to help out.
The new CHR website was built on the WordPress platform, and provides both visitors and the administrators with an easy-to-use, modern website experience. Various features of the new website include; a testimonials slideshow, homepage slideshow with custom design work, online contact form, and the website is optimized for mobile devices by utilizing responsive web design techniques.
CHR are now also able to accept online donations, opening up a completely new opportunity for them to be able to maximise their fundraising potential. We are also providing website hosting for this website and look forward to maintaining it in the coming months and years.
To learn more about Community Housing & Resources Inc. , you can check out their brand new (and first!) website we just launched, by clicking here