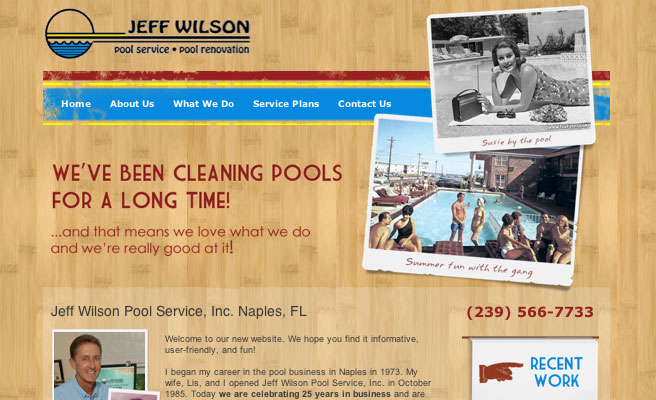 We recently completed a new website for Jeff Wilson Pool Service, based in Naples Florida. We have been working with this client for over 3 years now and really enjoy the relationship we have built with the owners and staff there. Previously, we designed a logo for their construction company, "KC Wilson Construction", and a full identity design and web design for their new company "Pool Tile Restoration of Naples".
The Jeff Wilson Pool Service website was now in need of a refresh after lasting over 5 years online. Casey and Emily at Jeff Wilson Pool Service challenged us with the task of coming up with a unique design for a website in the pool cleaning industry. They told us that the business is celebrating over 25 years of business in Naples, and that they are proud of their longevity in the area. We discussed the idea of a retro web design to represent the experience of lasting, high levels of customer service that they provide.
This retro design concept worked and everything came together nicely to form a really memorable, fun experience for users visiting the new Jeff Wilson Pool Service website.
Some additional aspects of this project included:
Custom web design
Content management system
Interactive slideshows
Online contact forms
Website hosting
Blog addition coming soon
Ongoing search engine optimization
View the new website here: Pool Cleaning Service Naples Florida