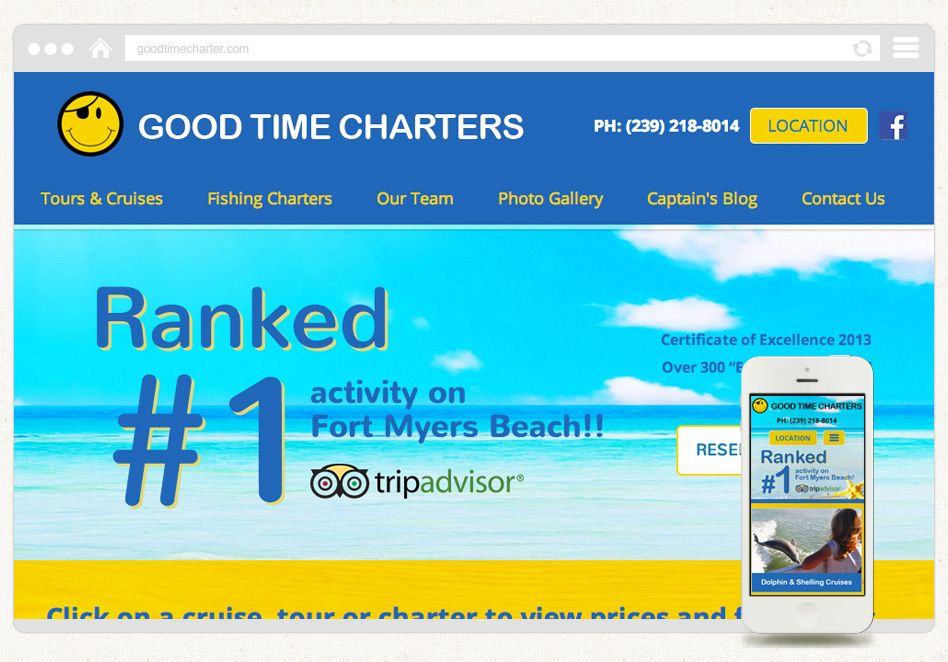 Late last night we launched a brand spanking new website for our good friends and clients, Good Time Charters, located in Fort Myers Beach, Florida. We've been working with Mike and Cristina and their team for over 6 years, starting out with a website redesign project and various design pieces, a lot of SEO work and general internet marketing consulting.
Over the past 6 years, GTC has experienced a tremendous level of success. When we first met Cristina for lunch in 2007 after she searched "web design Fort Myers"  on Google and found us, they had a fishing charter and a dolphin cruise, and their website was incredibly outdated. (Cristina would rather we not mention the fact that it had blinking paragraphs of text all over the site, giving visitors a taste of epilepsy!).
Cristina made the wise choice of hiring Brian Joseph Studios to design and develop a new website for Good Time Charters. We also put a lot of effort into the site's search engine ranking and performance, and soon the new website was being found by thousands of potential customers interested in a day on the water catching a prized snook or getting to see wild dolphins up close.
Throughout the years, we designed various pieces like newspaper ads, tri-fold brochures and more, and today Good Time Charters has grown so far past that little tour company with a blinking website and their success has been a joy to watch as our companies have grown together through this close partnership.
Good Time Charters now consists of multiple cruises and tours, fishing charters, paddleboarding and kayaking tours, and their sister company, Everglades Adventure provides exciting and informative tours of the Florida Everglades.
New Features on GTC Website
As a result of their ever-growing services offering, the new website had to be flexible and had to be easy for Cristina and the GTC team to edit all aspects of the content. The first website we designed and developed for them was back in 2007, and was a custom WordPress website. Captain Cristina now has several years of WordPress content management editing experience so it only made sense to build this new website on the WordPress platform, with a custom theme designed and coded from scratch by the caring hands of the Brian Joseph Studios team.
The new GoodTimeCharter.com website features a responsive web design layout so that the hundreds of tourists searching for something to do while on vacation on Fort Myers Beach using their smartphones and tablets enjoy an optimized experience for their specific device. We're confident that providing website visitors with a wonderful user experience on all screen sizes will increase the number of tours and charters booked through the website.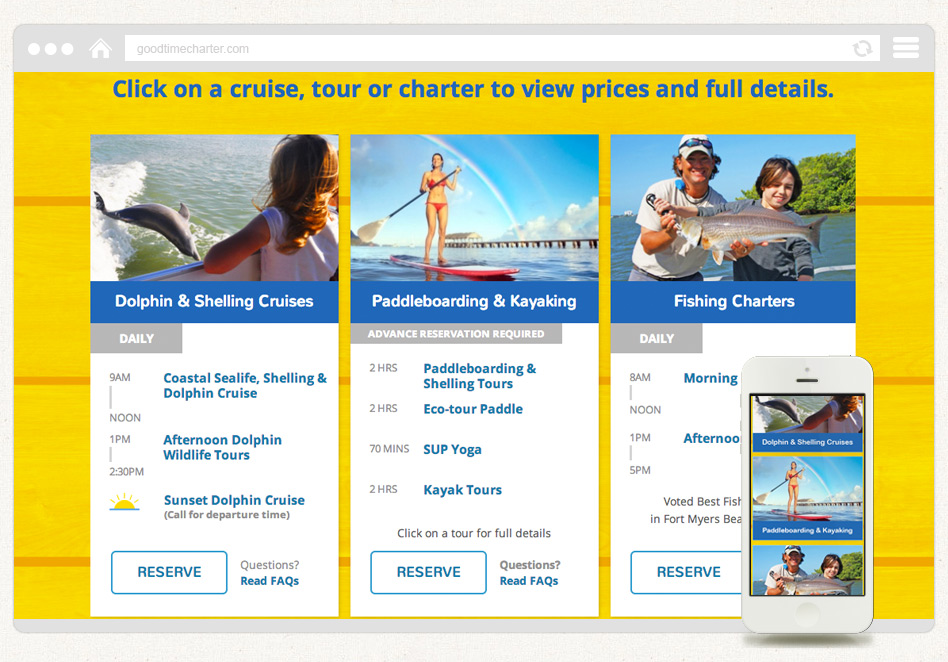 Another awesome feature of the new GTC website is the overall design and layout. Current modern website design trends are forcing websites to be quite flat and visually lacking as content and load speeds become king. This isn't a bad thing necessarily, but it does challenge the best website designers to think creatively and find ways to not only provide the user with an engaging visual experience but also ensure that each page loads quickly and information is obtained easily and intuitively.
Our designers here at Brian Joseph Studios created an awesome user interface for the new GoodTimeCharter.com website by using creative ways to present the tour and charter information in a clean and concise way while also communicating the company's overall brand message throughout the site.
This custom built website also features things like a responsive slideshow on the homepage, photo slideshows on tours and charters pages, a unique blog format, creative lists displaying each charter available, reviews slideshows and a third party online booking solution seamlessly integrated into the website. Customers can also view the tour departure location on a Google map, and can view and print out directions to the marina property.
We're excited to continue to work closely with Good Time Charters and helping them enjoy even more success and growth!