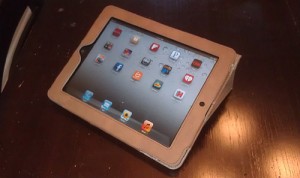 The Snugg asked me if I wanted to try out one of their iPad cases in exchange for a review here on my blog, and so here is sponsored, but honest review of the case I've been using.
The Snugg iPad flip stand cover is a great product to nestle your favorite iPad in (assuming you have several sitting around the house…its okay to admit it).
The particular cover I chose to cover my iPad was the Snugg iPad 1 Case Cover and Flip Stand in Brown Leather. The great thing about this cover is it gives a touch of professionalism and doesn't have any loud branding. It lets me sit down with customers and say, "I am here to do business, in the 21st century."
It functions similarly to your standard iPad flip case, but is made with an extremely soft leather outside and a smooth suede interior (along with some quality stitching to boot). They have also added a nice holster for your tablet pen….but the best part, it won't flip open as you're walking down the street while being held shut by some strategically placed  magnets.
Overall, I really like the clean, professional look of this iPad case compared to others, and using the different stand angles is easy.