Yesterday, Google Chrome , Google's open source internet browser, launched with a live video press release. Matt Cutts, head of Google Spam team was in the room, live blogging from his seat .
So, many of us developers and designers thought "Oh no, not another browser! Please not another CSS rendering nightmare to add to the pile!". No need to worry, Google Chrome uses Webkit to render html/css, the same engine that Safari uses. So, if your site looks ok in Safari, you will be fine.
Let's dig into the browser itself a little more to get an idea of what we are working with: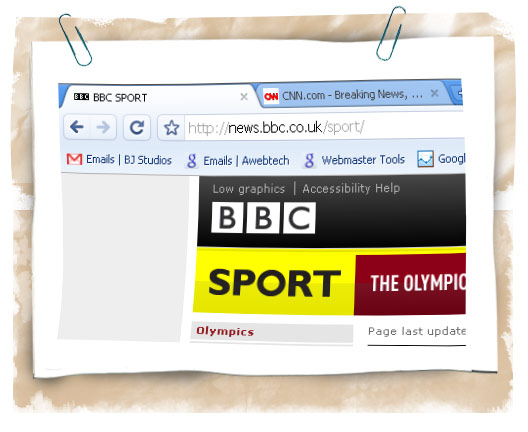 The interface seems very bare by default . I imported my Firefox bookmarks and popped them onto the top area of the browser just like I have in Firefox…one click away from my most important sites; Emails / Stats / Webmaster Tools / Google Reader etc.I do like the cleanliness of the Google Chrome browser. The top bar is a nice vibrant blue, and the tabs have a subtle vertical gradient that adds to the softness.
Tabbing system – since Firefox was one of the first ever browsers to display tabs, we now rely on the speed and efficiency of this feature. Google Chrome does tabs, and does them well! I really like the way they have designed this aspect of the interface. The active tab slightly overlaps the others next to it, giving it a much clarity than the tabs in IE7 and Firefox.
Status Bar – We are all used to the status bar at the bottom the browser, showing us the length of time the page takes to load, the url the browser is trying to connect to and more…..Google Chrome, being a minimalist interface by default, fades this status bar in and out of view as it is activated by the various mouse events. This is another small feature that allows for a more spacious and clean browser interface.
Most Visited – Like Opera, the starter screen shows you a list of sites. In Opera, these are your "Speed Dial" sites that you set yourself manually. In Google Chrome, the sites that display are your most visited sites within your browsing history. I don't think I will use this feature as I have those same sites in my bookmarks in the toolbar already.
Crashing Tabs – most of us have experienced the problem where we have 5 tabs open, one of them freezes up, and the entire browser needs to terminate suddenly. This happens to me quite frequently on my Windows Vista Laptop with IE7 when testing sites, and is a huge annoyance. Google Chrome is built in a way so that each tab is separate from the others, and not reliant on one single browser engine. To explain it better, here is a comment from Matt Cutts as he was watching the Google Chrome presentation in the room;


11:44 : Brian demonstrates a stuck/hung tab. You can still switch tabs! You can kill the tab from the tab strip or from the process manager. When you kill the tab, you see a "sad tab." If you reload the page, Google Chrome will even remember the scroll position.
After only a few hours of playing Google Chrome, I can only give my opinion so far. I am impressed with it, and the fact that it is open source, the amazing developer community out there will just make it better and better as time goes by. Look at what open source did for WordPress. I think Google Chrome may achieve a similar rate of success in the future. Oh yeah, forgot to mention, there are no built in ads within the browser at all. I was exepcting some level of ads….but I guess that's the cynic in me!
For more information on Google Chrome have a look here , some good Q&A..

Official Google Chrome Site
Google Chrome Comic Strip Explains It All


Have you tried out Google Chrome yet? What are your thoughts? At the time of writing, according to GetClicky, Google Chrome has hit 2% market share in eight hours. Will it continue to grow and be more popular than Firefox among designers?