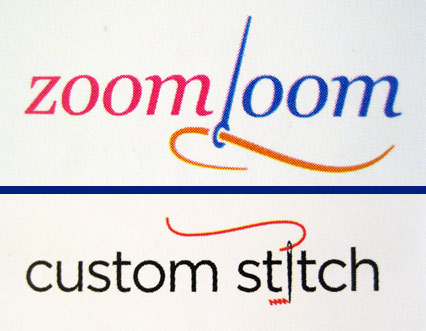 Is this too close for comfort?
In the latest installment in the Logo Lounge book series, "Logo Lounge 4", 2 logos are featured within a page of each other.
Both use the exact same idea of the needle and thread.
Both were uploaded to Logo Lounge's website in 2007.
"ZoomLoom" logo was created by Copia Creative, Inc. for the company "Styetex"
"Custom Stitch" logo was created by Admarc, also known as Senterbrands (Bart O'Dell).
It is always difficult to know which one to appreciate, or do we appreciate both of them for a design like this? Is this just coincidence that they both came up with a logo so similar around the same time period, and are both obviously members of the logo lounge website?
This post is not meant to say anything bad about any designers. It's purpose is to bring up the topic of when logo designs cross!
What do you think? Too similar? Just a good design that two different designers had originally?
Other interesting blog posts about graphic design rip offs:
Just Creative Design – (Jacob Cass) – Graphic Design Plagiarism and Rip Offs
Mashable.com – Exposed: The 7 Most Blatant Web 2.0 Rip Offs
Godbit.com – LogoMaid : Imitation or Theft?
YouThoughtWeWouldntNotice.com