Popular website, BoingBoing.net discussed a recent Ralph Lauren ad featuring veteran Ralph Lauren model Filippa Hamilton-Palmstierna in which the model appears to have been overly re-touched.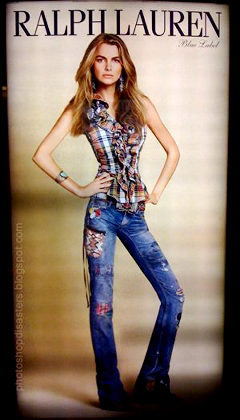 "Dude, her head's bigger than her pelvis," wrote the BoingBoing blogger, mocking what appears to be an overzealous use of Photoshop to slim down Hamilton-Palmstierna's already toned figure. Ralph Lauren responded by threatening action for copyright infringement after BoingBoing published the ad on their website. BoingBoing then replied that they were within their rights and protected by the "fair use" provision, which allows reproductions "for purposes such as criticism, comment, news reporting."
However, many questioned the true origin of the ad, and whether or not is was in fact a real Ralph Lauren ad. BoingBoing found the image on a popular website called "Photoshop Disasters" that displays unusual and failed attempts at photoshopping imagery in the the media to appear as real as possible. "Photoshop Disasters" author confirmed the source of the ad was the photographer that actually took the picture, confirming that the image had been grossly re-touched.
On Thursday, Polo Ralph Lauren released the following statement about the retouched ad, as reported on Extra:
"For over 42 years we have built a brand based on quality and integrity. After further investigation, we have learned that we are responsible for the poor imaging and retouching that resulted in a very distorted image of a woman's body.
"We have addressed the problem and going forward will take every precaution to ensure that the caliber of our artwork represents our brand appropriately."
"Represents our brand appropriately" ? I think all the public is really looking for is the human body to be represented appropriately!
full story here
You can also watch a segment of "The Rachel Maddow's" show discussing this story below: