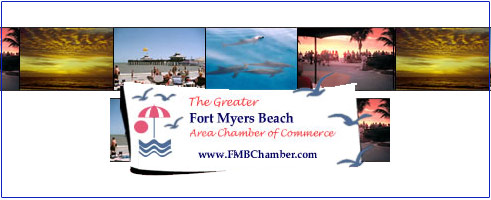 Well, two days ago we had a third meeting with the Greater Fort Myers Beach Chamber of Commerce, and Brian Joseph Studios is now in charge of the overall management of the Chamber's website, fmbchamber.com.
We are also about to start a major re-design project for the website with a lot of really cool tools for both the members and the visitors of the website.
This is an exciting time for Brian Joseph Studios as we continue to experience rapid growth in the first 3 months of 2008 and it is only getting better. To have a client like the Greater Fort Myers Beach Chamber of Commerce solidifies our leading role in the Southwest Florida market and we are delighted to play a bigger part in the community in the following months and years.
We also attended the Chamber luncheon yesterday and met some other new Chamber members which was nice. I should have a picture soon to post of me accepting a plaque. It was a nice lunch, and the main order of business was to introduce the new Fort Myers Beach Town Manager, Mr. Scott Janke. I got to speak with him briefly at the end of the lunch and it was nice to meet him.
I should have pictures of the luncheon soon once they are published in the Chamber newsletter.