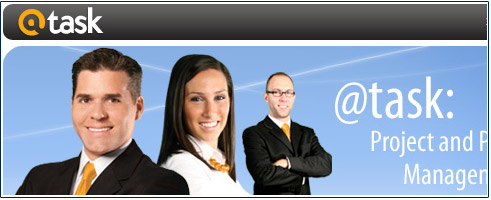 About a week ago, I began to feel overwhelmed with the amount of work we were receiving from both current clients and new clients, and Microsoft Project Pro 2007 just wasn't cutting it for me anymore when trying to organize it all.
So, I went on the hunt for a better project management system, and found a review of the top systems out there.
I have had previous experience with Celoxis and more recently Microsoft Project 2007. I still felt like I wanted something better.
Celoxis is an extremely slow application and as each update of the program is released, it becomes more and more difficult to do the things you want to do, as fast as you want to do them.
Microsoft Project 2007 is a local pc application, and it is a good program, yet it just bores me a little too much and makes me feel like I am working in Excel…which is not too much fun for a designer.
So I decided to take a test drive of "@Task", http://attask.com, the number one project management software from the review noted above. So far, I am extremely happy with how it works, and to make it even better, I received a phone call from a tech at the company today asking if I would like to set up my free 30 minute training session.
The application is all online, and also has an ASP download to host it on your own servers if you like. It is about $32.00 a month, per user. This works out to be a little bit pricey when you start adding a number of programmers and designers, but it is definately worth it. Clients spend a lot of money with my company and it is only right that I invest in the best resources for my company to be able to provide them with the best service. If you start cheaping out on your own company, how can you expect clients to not cheap out on you also.
So, @task is currently keeping all of our current and ongoing project in order, and making it easy for my programmers and designers to login in and update their time each day.
This project management system "@Task" is a must for busy designers and it will also give you a clear idea of how profitable your projects are.
Do you use a project management system for your projects? Tell us a little about your experience with them, which one did you choose?