** After learning more about how these contests work, and their impact on our industry, my opinion evolved – read more here about Crowdspring.
I recently found a contest website for designers, thanks to Michael McAlister, recently featured on the Freelancer Focus project. The site allows users to create contests, asking designers to submit entries to win the cash prize. I decided to play with this for a while last weekend, and it was definitely an enjoyable experience.
The first contest I entered was for a juicing distribution company, planning on opening up juice bars and printing their brand on all products and packaging. They created the contest to get a new logo for their company. So, I read the brief:
"We would like to see something that would fit our distribution aspect of the business and our retail aspect of the business.We need something smart and unique and something that would fit our distribution side of the business where we distribute juicing machines, and our retail side of the business where we open juice bars that sell freshly squeezed juices such as pomegranate, orange, kiwi, pineapple and many others including vegetable juice and wheat grass.

Our logo can be trendy, and fun, with a hint of sophistication and business like manner."
This project seemed to me to be a fun first entry into the logo contest experience on this website, so I entered a logo after coming up with a creative, professional concept. They liked it right away and immediately I received 4/5 stars for my entry. There was also one other designer that received 4/5 stars, and I liked his entry also. Here are a few of the better entries for this specific contest.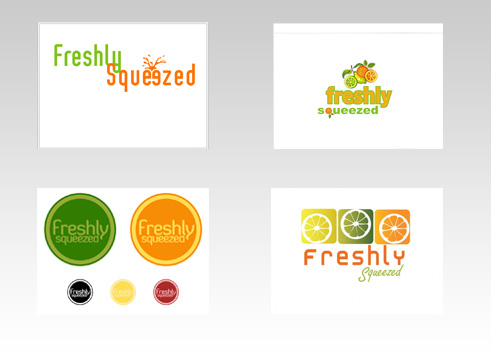 Out of over 120 entries, my logo was chosen to be the best match for the client. The client had a few nice words to say and privately emailed me with this:
"Hi Brian, thanks a lot for all your designs, you are our favorite designer. You are very talented."
Here is my winning logo, and a few variations of it, to present the possibilities for other media: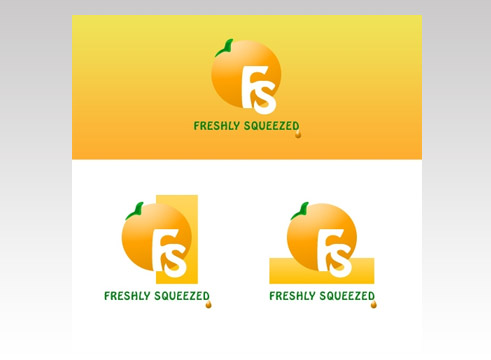 So, for designers, my question is this; Do you agree with logo design competitions like this? Have you ever entered a contest on logo design contest site like this? What was your experience?
I am slightly torn on this subject. On the one hand, these contests sort of cheapen the work of the designers (most logo design contests only have a prize of $100), they also remove the development process and close interaction between the client and the designer (this is often an extremely valuable process for creating a powerful logo for the client). On the other hand, it is a fun way for the designer to build up his or her portfolio along with the opportunity to make a bit of cash along the way.
I imagine that some designers make a living from almost solely spending their time on these design contests, but I am unsure whether or not this is a good thing for our market, as logo designers.
What do you think?