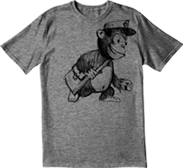 UPDATE ** – Winner is @cshold
When Mailchimp sent me a tshirt, it quickly became one of my favorites. I've now got another one on the way and I'd like to give it away to one lucky winner.
It's a male, medium shirt, grey with a cool chimp sketch drawing. Pretty soft, good quality material.
To win, all you have to do is click the "tweet" button on this post (feed readers may have to visit the actual post on my site to do so). In a few days, I'll pick a winner at random. Thanks!