A new blog diving into the online design community is Craig Farrell , and this week he has asked everyone to show their workspace, whether it be a designer's corner in an office block, or a programmers dungeon with no sunlight.
Nice idea and it will be fun to see our online friends' work areas, what kind of hardware they use, etc.
Here are a few shots of my office and workspace (click on the below image to view larger)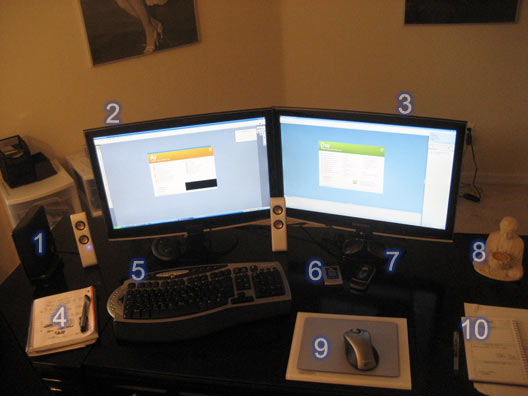 1: Seagate External Hard Drive (for backup)
2: 22" Samsung SyncMaster T220 : LCD Monitor
3: 22" Samsung SyncMaster T220 : LCD Monitor
4: Notebook (notes from phone calls and quick sketches of ideas and things go here)
5: Wireless Microsoft Comfort Keyboard
6: Cellphones (Mobile phones for the UK and Ireland visitors! 🙂
7: Ray-Bans (always have them handy as Florida sunshine is tough on the eyes.)
8: Bob the Buddha with Candle (He promotes peace and serenity, especially when I want to throw my computer out the window.)
9: Wireless Microsoft mouse and Allsop Pad (love it!)
10: Appointments/Meetings book and my "To Do" pile.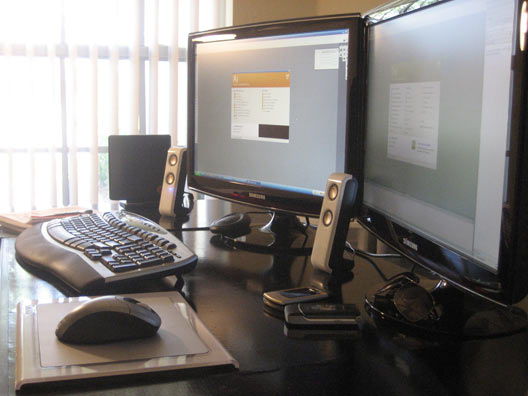 I have a nice window to my left that keeps me sane when I am deep in CSS and PHP.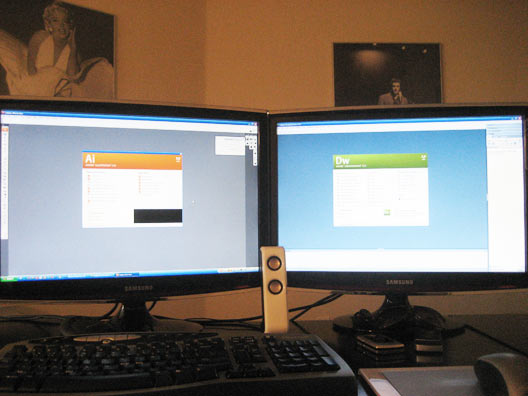 On the walls of my office are 3 photos in frames: Marylin Monroe, Elvis Presley and The Beatles (The Beatles poster is above my head, behind my seat.) I also have posters of Bob Marley, and James Dean that I will put up someday.
The "Greats" of their industry surround me and inspire me each day. Oh yeah, and Bob the Buddha keeps me calm. The candle also smells pretty good!
What does your workspace look like? Head on over to Craig's site and post the link.